Apron Feeder
Working Principle
Apron feeder consists of drive wheel device, tail wheel tension device, endless belt made up of flat overlapping steel plates, chain transmission device and driving device. Every steel plate is assembled together to form a complete line of plates which is carried on two roller chains, one in each side. During the operation of the apron feeder, the traction chains of the chain transmission device engage with the sprocket to drive the endless belt to move along the longitudinal center-line. The material discharged from the ore bin is transported along the conveying line to the front of the feeder for continuous and uniform feeding.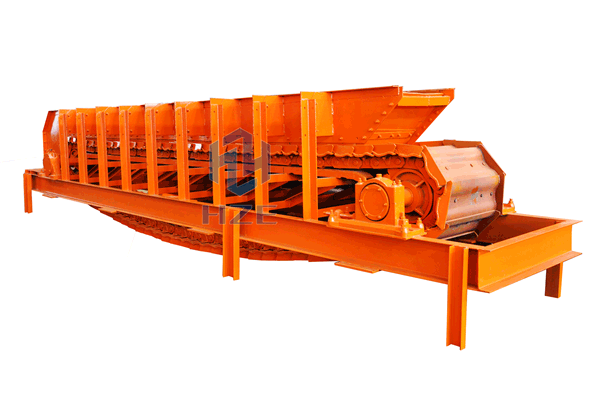 Features
The endless belt is made of the wear-resistant steel plates with high strength and stiffness to withstand great impact.
Standard track chain, no lubrication or deviation, for interchangeability and long service life.
The sprockets are made of high strength alloy steel and quenched, which has excellent wear resistance.
Equipped with composite spring on the tail of the frame, which can effectively buffer the impact load of the chain.
Segmented drive sprockets, easy to maintain without removing the chain plate.
Traction chain and load chain are separated, so the dynamic load is small to extend life.
The bottom surface of the endless belt is equipped with a scrapper to reduce the stickly materials.
The speed can be adjusted by the frequency converter for energy saving and easy control, convenient feeding adjustment and uniform feeding.
Suitable for transporting high humidity and viscous materials.
Application
It is used for continuously feeding materials from ore bin to primary crusher of large crushing plant. It can also be used for short-distance transporting or transporting materials with large specific gravity.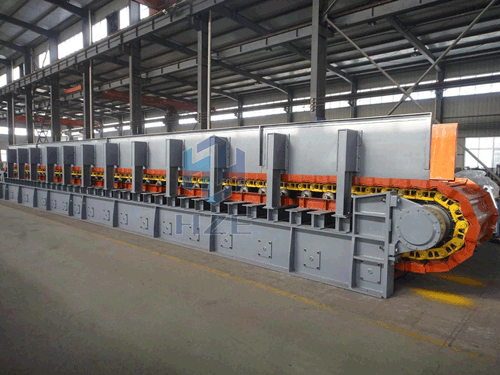 Technical Parameters
Heavy Duty and Small Size
Model

Belt Plates

Feeding Size

(mm)

Capacity
(m3/h)

Power

(kW)

Belt Width
(mm)

Center Distance of sprockets

(mm)

Speed
(m/s)

GBZ120-4.5

1200

4500

Adjusted

≤500

100

15

GBZ120-5

5000

GBZ120-5.6

5600

GBZ120-6

6000

GBZ120-8

8000

22

GBZ120-8.7

8700

GBZ120-10

10000

GBZ120-12

12000

GBZ120-15

15000

30
Heavy Duty and Medium Size
Model

Belt Plates

Feeding Size

(mm)

Capacity
(m3/h)

Power

(kW)

Belt Width
(mm)

Center Distance of sprockets

(mm)

Speed
(m/s)

GBZ150-4

1500

4000

Adjusted

≤600

150

15

GBZ150-6

6000

22

GBZ150-7

7000

GBZ150-8

8000

GBZ150-9

9000

30

GBZ150-12

12000

45
Heavy Duty and Big Size
Model

Belt Plates

Feeding Size

(mm)

Capacity
(m3/h)

Power

(kW)

Belt Width
(mm)

Center Distance of sprockets

(mm)

Speed
(m/s)

GBZ-180-6

1800

6000

Adjusted

≤800

240

45

GBZ180-8

8000

GBZ180-9.5

9500

GBZ180-10

10000

GBZ180-12

12000

GBZ240-4

2400

4000

≤1000

400

30

GBZ240-5

5000

GBZ240-5.6

5600

GBZ240-10

10000

45
Medium Duty and Small Size
Model

Belt Plates

Feeding Size

(mm)

Capacity
(m3/h)

Power

(kW)

Belt Width
(mm)

Center Distance of sprockets

(mm)

Speed
(m/s)

GBH80-2.2

800

2200

Adjusted

≤300

15-91

7.5

GBH80-3

3000

4

GBH80-4

4000

7.5

GBH80-5.8

5800

7.5

GBH100-1.6

1000

1600

Adjusted

≤350

22-131

7.5

GBH100-3

3000

GBH100-4

4000
Medium Duty and Big Size
Model

Belt Plates

Feeding Size

(mm)

Capacity
(m3/h)

Power

(kW)

Belt Width
(mm)

Center Distance of sprockets

(mm)

Speed
(m/s)

GBH120-1.8

1200

1800

Adjusted

≤400

35-217

7.5

GBH120-2.2

2200

GBH120-2.6

2600

GBH120-3

3000

GBH120-4

4000

GBH120-4.5

4500

GBH120-6

6000

11
DOWNLOAD