Saw-tooth Wave Jig
Working Principle
Saw tooth wave jig is one of the modern gravity separation equipment, due to its great processing capacity, wide range of particle size classification and simple operation & maintenance, it is widely used in roughing or cleaning of placer gold, Tin, Titanium, Hematite, Iron ore, Coal, etc, especially in processing Manganese ore and Barite ore.
Traditional jigs are usually driven by circular eccentric force, the jigging curve is sinusoidal waveform. The speed and effect time of rising and falling water currents produced by the diaphragm motion are the same, therefore it is bad for the decompaction of jig bed and ore particle layering according to the proportion, so the equipment classification ratio and recovery rate are influenced.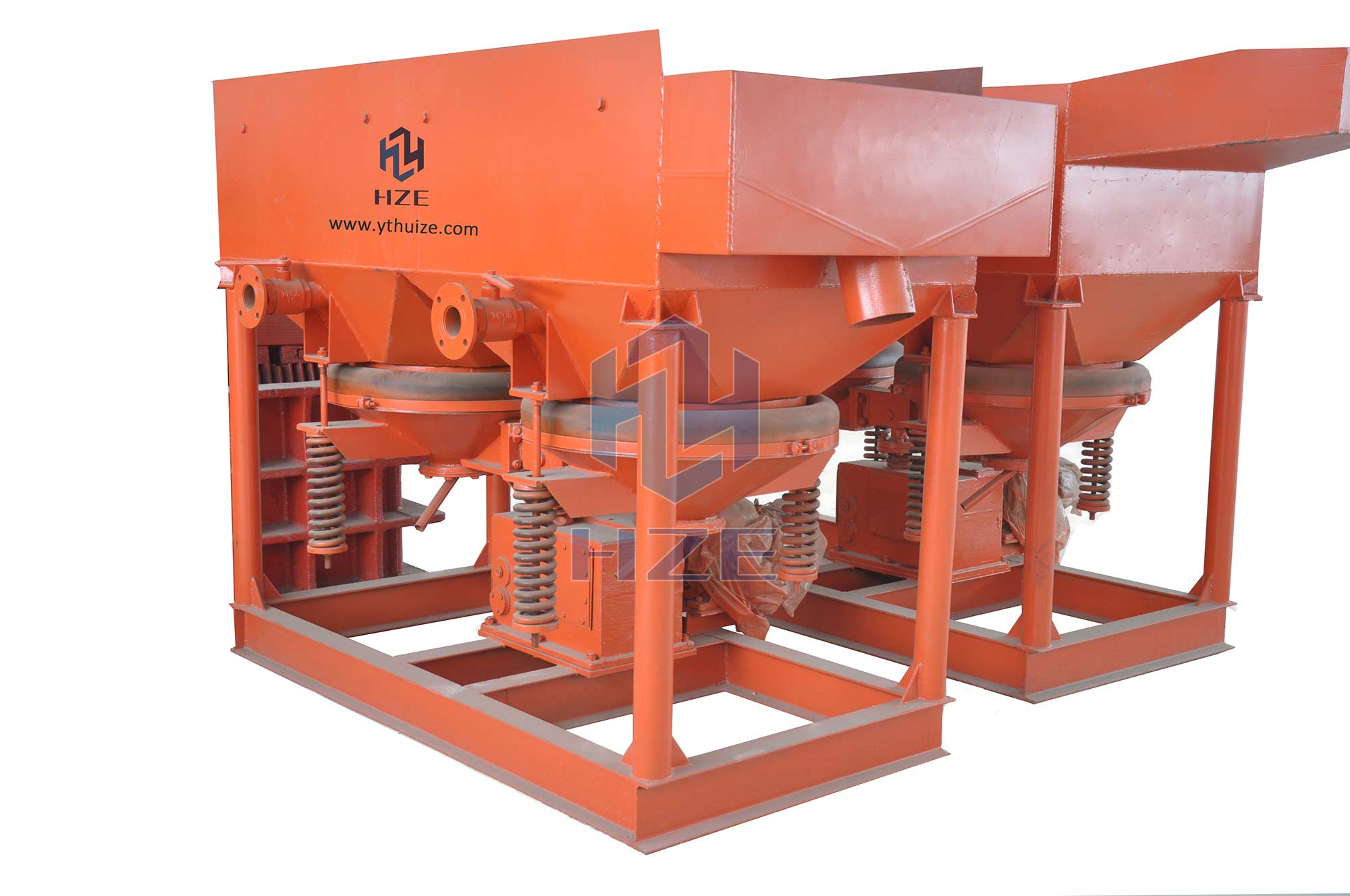 Saw tooth wave jig is a kind of energy-saving gravity separation equipment developed and improved based on traditional jig according to distribution of the jig bed theory. The jig pulsation curve is in shape of saw tooth, which makes the rising water flow speed faster than the falling water flow, that is, the rising time is shorter than the falling time. overcome the defects that the effect time of rising waterflow and falling waterflow, produced by sine wave and pulsation curve jig are the same, and increase the loose degree and relieve suction effect, achieving full sedimentation of heavy mineral grains, so the classification capability of equipment and recovery rate are greatly increased. Compared with sine wave jig, the increase rate is as follow: Sn is increased by 3.01%, W is increased by 5.5%, Pb is increased by 1.63%, and Zn is increased by 2.04%,water consumption is reduced by 30%-40% and area covering is reduced by 1/3,and the stroke can be adjusted. Adopting the electromagnetic adjusting motor for dragging achieves the continuous adjustment of jig frequency. The performance of Saw tooth jig has reached domestic advanced level and become the one of the ideal energy-saving gravity separation equipment.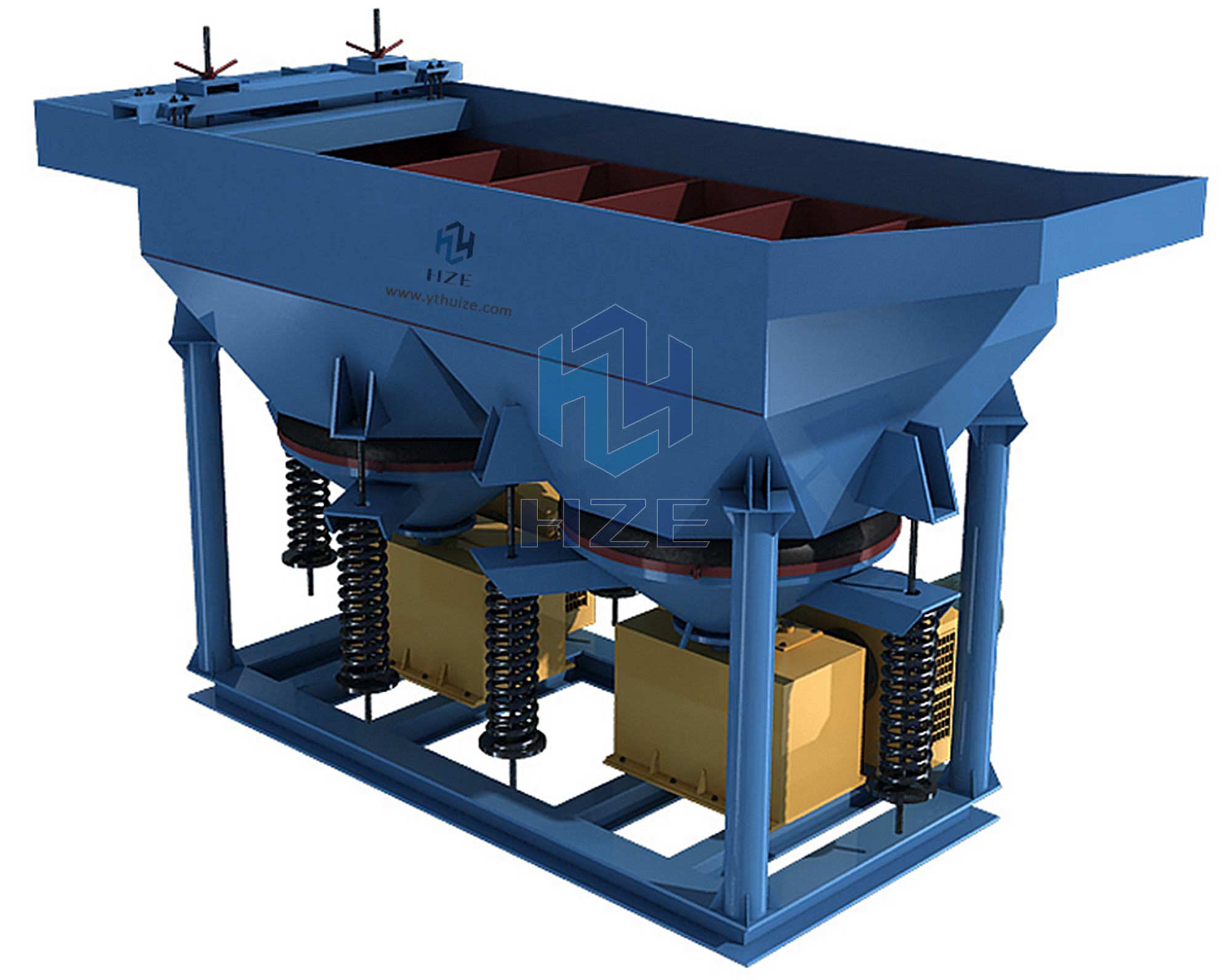 Application Scope
Jig is one of the most commonly used mining equipment, which is widely used in mineral processing, construction materials, silicate and chemical industries. In the production of mineral processing Plants, it is generally used as the gravity concentration machine or speparator for metal ores of gold, silver, tungsten, chromium, tin and others, as well as barite, fluorspar, mica, etc.
Technical Parameters
Model

Jigging Chamber

Diaphragm

Feeding Size

(mm)

Capacity

(t/h)

Power

(kW)

Weight

(kg)

Shape

Area

(m2)

Stroke

(mm)

Frequency

(Hz)

JT0.57-1

Trapezoid

0.57

8.5~12

1.3~3

<6

1.5~3

1.5

640

JT1-1

Trapezoid

1.04

10~17

<10

2.5~5

2.2

950

JT2-2

Trapezoid

2.28

12~21

<10

5~10

3

1690

JT3-1

Trapezoid

3

12~30

0.83~2.1

<10

7.5~15

5.5

3155

JT4-2

Trapezoid

4

25~57

<25

8~20

7.5

3150

JT4-2A

Trapezoid

4

25~57

<25

8~20

4×2

3550

JT5-2

Trapezoid

4.86

12~30

<10

12~25

7.5

4580
DOWNLOAD